Augustine's Approved
Regular price
$35.00 USD
Sale price
$28.00 USD
Unit price
per
Sale
Sold out
20% off
Expiry Oct 2023.
NOTE: This is a third-party product and is only eligible for free standard shipping for orders above $140.
Made under & governed by human food standards
Produced entirely from wholefoods (no synthetics)
Provides vital nutrients that processing can destroy 
Assists in the maintenance of healthy joints
Promotes normal, healthy growth and development
Promotes healthy skin, shiny coat & strong nails
Promotes digestion and absorption of nutrients
Promotes healthy organ function
Helps maintain a healthy gut
Augustine's SuperBoost is the world's first 100% certified organic supplement made entirely from wholefoods and specially formulated for canines. It is based on the formula found in our flagship fresh food product, Augustine's SuperFood.
This nutritional powerhouse is suitable for ALL dogs and can be added to dry, canned, raw & homemade meals.  You can even use the free recipes on the Augustine Approved website to make Augustine's SuperFood at home!
Augustine's SuperBoost contains ingredients used by top performing athletes.  It is packed with so much goodness that not only is it safe for human consumption, we actually encourage you to add it to your own food.  It is an excellent addition to smoothies.
INGREDIENTS
Flaxseed Meal




Barley Grass




Arrowroot




Sesame Seeds




Chia Seeds




Lecithin




Turmeric




Wakame
SUGGESTED USE
Augustine's SuperBoost is a great addition to any canine diet.
Add Augustine's SuperBoost to:
Dry, canned & raw commercial foods
Raw & homemade meals
For Optimum Results feed your dog a daily minimum of:
Miniature 1/4 – 1/2 tsp.
Small 1/2 – 1 tsp.
Medium 1 – 2 tsp.
Large – 1 – 1.5 tbsp.
Giant – 1.5 – 2.5 tbsp.
Halve the amount for puppies.
Augustine's SuperBoost is also healthy for cats:
Kitten 1/4 – 1/2 tsp. daily
Adult 1/2 – 1 tsp. daily
Do not take remedially. This product is not intended to diagnose, treat, cure, or prevent any disease.
Share
View full details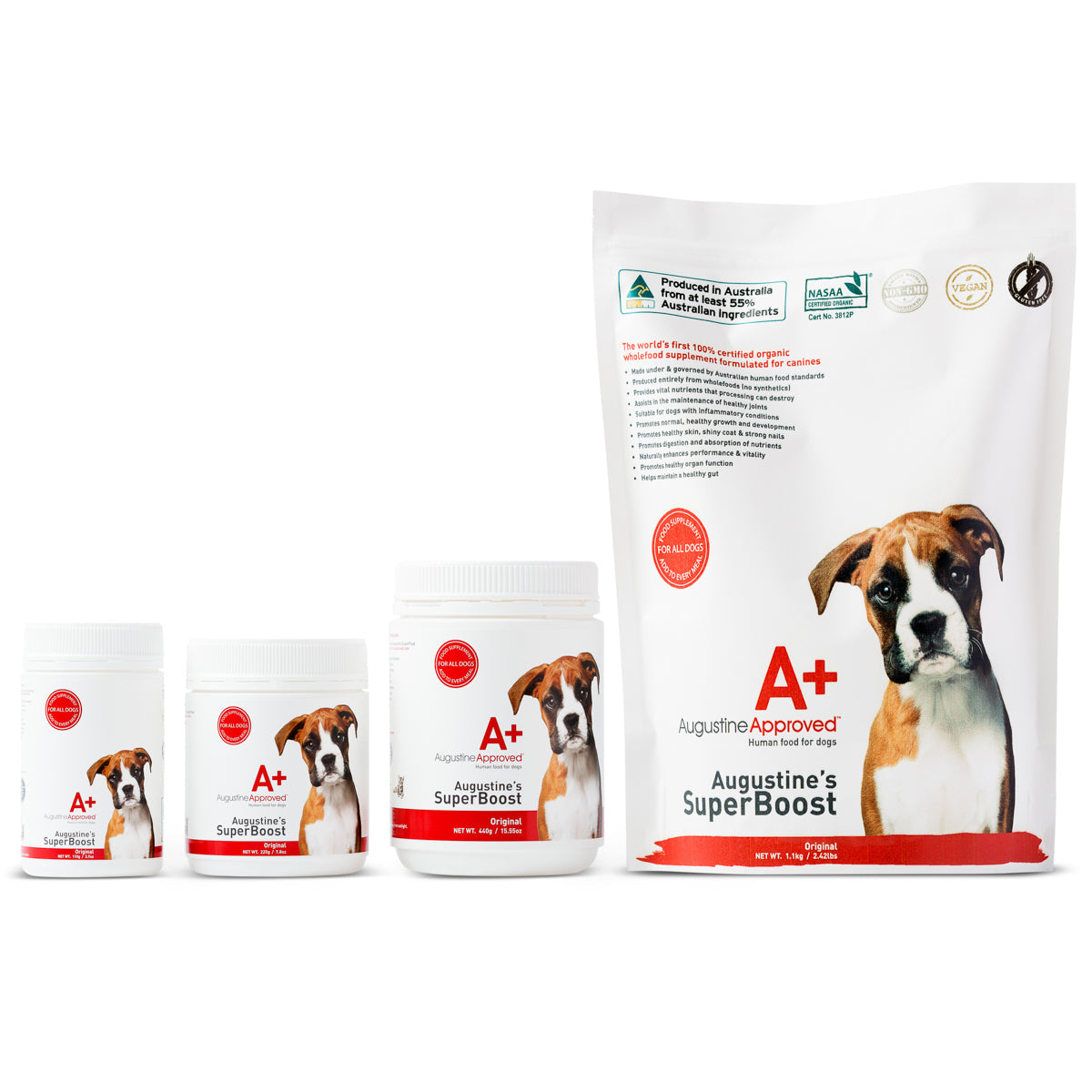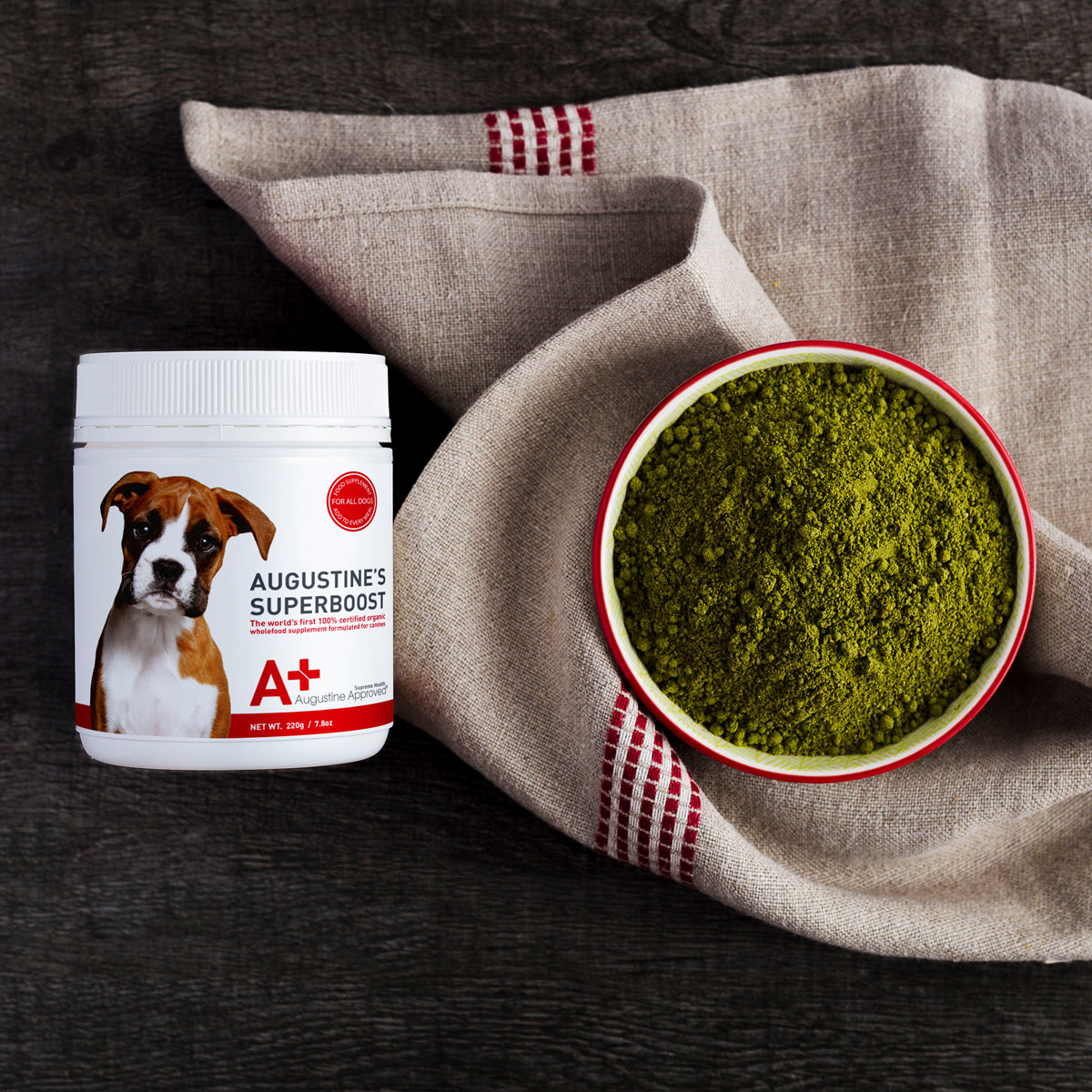 FAQ
STORAGE & HANDLING

FOR DEHYDRATED TREATS

If possible, store treats in the refrigerator and keep them dry. Do not leave refrigerated treats in room temperature to prevent condensation.
If not, store at room temperature in a cool, dry place.
Feed within 4 months from date of manufacture.
Supervise your pet when feeding.

FOR COOKED OR FROZEN TREATS AND MEALS

Please store them in the refrigerator for up to 4 days, or frozen for up to 4 months.
You may reheat before feeding but be sure to cool it down before feeding your pets.

(Unless specified otherwise.)
HEALTH & HYGIENE

All our meats and vegetables are cleaned, then sanitised in ozone before dehydration. Ozone is an effective antimicrobial that kills all known pathogens.

All treats are packed in BPA free, food grade, recyclable zipper bags that are heat sealed with oxygen absorbents to prevent mold growth and rancidity.

To ensure that bacteria is destroyed, our treats are made with a premium dehydrator with certified BPA free trays and screens with controlled low temperatures, to ensure treats are dehydrated according to the guidelines given by the USDA Meat and Poultry while still maintaining their nutrients.

NO preservatives. NO artificial flavouring. NO colouring.

Human grade ingredients only!

(Unless specified otherwise.)
SHIPPING

FOR DEHYDRATED TREATS

Free standard delivery for orders above $40.
The default shipping method is via postal mail.
We do not really recommend this for seafood, since most would crumble easily. Our seafood is also often oily even after days of dehydration, and we cannot guarantee that it will not go rancid after being under the sun with the mailman. Please do a self pick-up if you are not comfortable with this, or contact us to arrange for courier.

FOR COOKED OR FROZEN TREATS AND MEALS

Free express delivery for orders above $140.
Cooked and frozen items can only be sent via same-day courier or picked up in store. We take special care to deliver frozen food but due to our climate, it may thaw at an alarmingly fast rate even if we courier it in a foil bags & cooler boxes. Please do a self pick-up if you are not comfortable with this.
Free express deliveries are only on Saturday & Sunday between 3-7pm.

FOR THIRD PARTY PRODUCTS

Third party products are only eligible for free standard delivery with a min. spend of $140.

(Unless specified otherwise.)