For Furry Friends
Regular price
Sale price
$15.00 USD
Unit price
per
Sale
Sold out
NOTE: This is a third-party product and is only eligible for free standard shipping for orders above $140.
This ultra-nourishing balm helps to moisturize, heal and protect paw pads, nose and other areas of concern. Great for soothing and repairing dry or calloused paw pads, For Furry Friends New Paw & Nose Balm is now in a new & improved version! Upsized from our old 12g version to this new version with 30g!
Safe and all-natural ingredients
Easy-to-use
No artificial fragrance
No sticky residue
Lick safe
Lightweight
Fast absorption
Creates protective barrier
Restores paw pad moisture
Choose natural ingredients over chemical-based products for your pet, family and environment!
Ingredients: Organic Extra Virgin Coconut Oil, Pure Olive Oil, Organic Shea Butter (Raw Unrefined),  Organic White Beeswax (Cera Alba), Neem Seed Oil (Azadirachta Indica) and Vitamin E (Tocopheryl Acetate)
Volume: 30g
Storage: Keep out of direct sunlight
Best before 6 months after opening
Instructions:
Apply a thin layer on paw pads every night
Use before and after walks for additional paw pads protection
Can also be used on the sunburned nose, dry elbow and other parts of the body

Tips:
Apply a thin layer of balm to moisturise paws and nose before outdoor activities, especially on hot floor surfaces and potential sunburns.
Apply before sleeping as a skincare routine for their paws and nose.
Note: Achieve better results when applied multiple times a day.
Share
View full details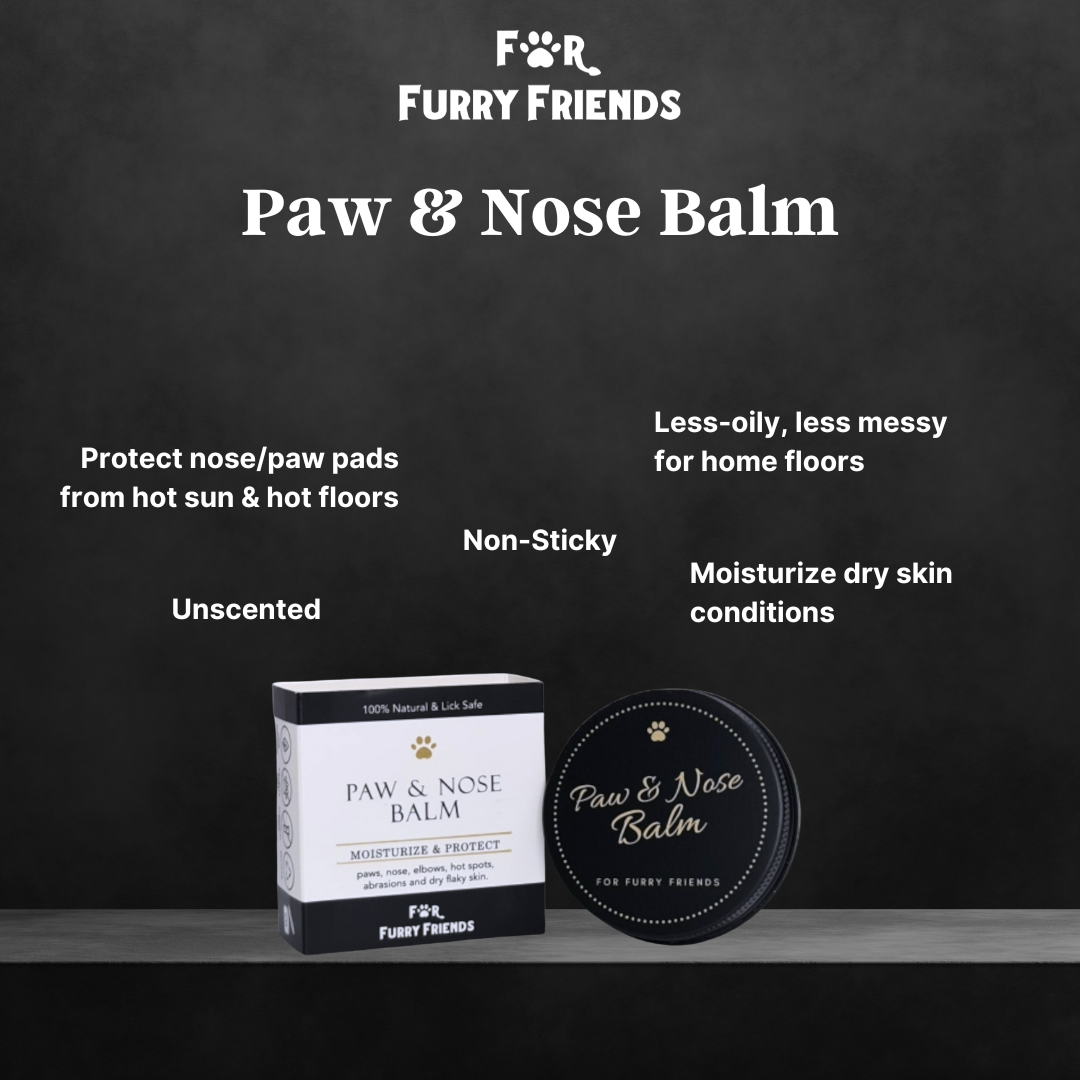 FAQ
STORAGE & HANDLING

FOR DEHYDRATED TREATS

If possible, store treats in the refrigerator and keep them dry. Do not leave refrigerated treats in room temperature to prevent condensation.
If not, store at room temperature in a cool, dry place.
Feed within 4 months from date of manufacture.
Supervise your pet when feeding.

FOR COOKED OR FROZEN TREATS AND MEALS

Please store them in the refrigerator for up to 4 days, or frozen for up to 4 months.
You may reheat before feeding but be sure to cool it down before feeding your pets.

(Unless specified otherwise.)
HEALTH & HYGIENE

All our meats and vegetables are cleaned, then sanitised in ozone before dehydration. Ozone is an effective antimicrobial that kills all known pathogens.

All treats are packed in BPA free, food grade, recyclable zipper bags that are heat sealed with oxygen absorbents to prevent mold growth and rancidity.

To ensure that bacteria is destroyed, our treats are made with a premium dehydrator with certified BPA free trays and screens with controlled low temperatures, to ensure treats are dehydrated according to the guidelines given by the USDA Meat and Poultry while still maintaining their nutrients.

NO preservatives. NO artificial flavouring. NO colouring.

Human grade ingredients only!

(Unless specified otherwise.)
SHIPPING

FOR DEHYDRATED TREATS

Free standard delivery for orders above $40.
The default shipping method is via postal mail.
We do not really recommend this for seafood, since most would crumble easily. Our seafood is also often oily even after days of dehydration, and we cannot guarantee that it will not go rancid after being under the sun with the mailman. Please do a self pick-up if you are not comfortable with this, or contact us to arrange for courier.

FOR COOKED OR FROZEN TREATS AND MEALS

Free express delivery for orders above $140.
Cooked and frozen items can only be sent via same-day courier or picked up in store. We take special care to deliver frozen food but due to our climate, it may thaw at an alarmingly fast rate even if we courier it in a foil bags & cooler boxes. Please do a self pick-up if you are not comfortable with this.
Free express deliveries are only on Saturday & Sunday between 3-7pm.

FOR THIRD PARTY PRODUCTS

Third party products are only eligible for free standard delivery with a min. spend of $140.

(Unless specified otherwise.)