Wholesome Paws
Regular price
Sale price
$15.00 USD
Unit price
per
Sale
Sold out
Please call us at 91162733 prior to ordering, to make sure we are available on the date you want.
Can be preordered for a specific date!

May be customised!
Made without flour or grains
Wholesome Meatzzas are a great pizza option for dogs, without the worry of gluten allergies! Built on a base of mince meat as the crust, meatzzas are a healthy yet delicious snack or meal addition. Pescatore meatzzas are built on a base on Norwegian Salmon. No fillers, preservatives, seasoning or colouring is used, just natural goodness! Each meatzza is made with carefully selected human-grade ingredients & fortified with a superfood for your dogs' health!
Our meatzzas are approximately 6-7 inches (15-18cm) in diameter; each meatzza might be of different width and thickness. 250g of meat will be used in the crust alone, and more meat in the topping. They can be prepared ready-to-eat or frozen.
Contact us if you want meatzzas made with other proteins, or custom meatzzas! We always have fun making Omakase Meatzzas!

Do note that we must receive full payment 2 days before the meatzza is due, for 100% confirmation. If there is a time crunch with last minute orders and you need the meatzza(s) urgently, please contact us directly in case we do not have the necessary ingredients. Last minute orders should still have payment completed by the end of the previous working day or we are not obliged to fulfil your order.
Please note that this is a frozen item and can only be sent via same-day courier delivery or picked up in our store.
Cloudy with a Chance of Meatballs

Meat-only base (250g)
Homemade meatballs (100g)
Spinach sauce
Capsicum
Cheese (mozarella or bocconcini, depending on availability)
Basil
Chlorella
Chlorella boosts energy, supports fat loss and helps detox heavy metals like lead and mercury from the body. It supports healthy hormonal function, promoting cardiovascular health, helping to negate the effects of chemotherapy and radiation, lowering blood pressure and cholesterol, and aiding in the detoxification.
Salmon Pescatore

Norwegian salmon base (250g)
Norwegian salmon chunks (50g)
Kefir cheese or yogurt
Japanese Kombu
Boiled egg
Cheese (mozarella or bocconcini, depending on availability)
Dill
Green-Lipped Mussel powder
Maple Apple Crumble

Meat-only base (250g)
Mince crumble (50g)
Sweet potato mash (purple or yellow, depending on availability)
Capsicum
Cheese (mozarella or bocconcini, depending on availability)
Parsley
Grade A dark amber maple syrup
Apple
Chia seeds
Chia seeds are packed with high amounts of antioxidants to fight free radicals, fiber, feeds the good bacteria in the intestines (thus keeping the gut healthy), and are very high in amino acids and omega-3 fatty acids.
Share
View full details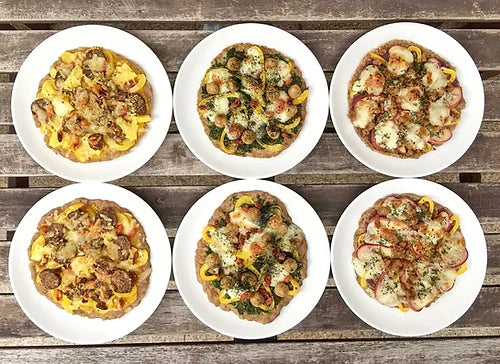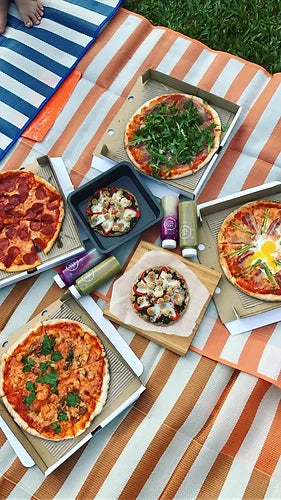 FAQ
STORAGE & HANDLING

FOR DEHYDRATED TREATS

If possible, store treats in the refrigerator and keep them dry. Do not leave refrigerated treats in room temperature to prevent condensation.
If not, store at room temperature in a cool, dry place.
Feed within 4 months from date of manufacture.
Supervise your pet when feeding.

FOR COOKED OR FROZEN TREATS AND MEALS

Please store them in the refrigerator for up to 4 days, or frozen for up to 4 months.
You may reheat before feeding but be sure to cool it down before feeding your pets.

(Unless specified otherwise.)
HEALTH & HYGIENE

All our meats and vegetables are cleaned, then sanitised in ozone before dehydration. Ozone is an effective antimicrobial that kills all known pathogens.

All treats are packed in BPA free, food grade, recyclable zipper bags that are heat sealed with oxygen absorbents to prevent mold growth and rancidity.

To ensure that bacteria is destroyed, our treats are made with a premium dehydrator with certified BPA free trays and screens with controlled low temperatures, to ensure treats are dehydrated according to the guidelines given by the USDA Meat and Poultry while still maintaining their nutrients.

NO preservatives. NO artificial flavouring. NO colouring.

Human grade ingredients only!

(Unless specified otherwise.)
SHIPPING

FOR DEHYDRATED TREATS

Free standard delivery for orders above $40.
The default shipping method is via postal mail.
We do not really recommend this for seafood, since most would crumble easily. Our seafood is also often oily even after days of dehydration, and we cannot guarantee that it will not go rancid after being under the sun with the mailman. Please do a self pick-up if you are not comfortable with this, or contact us to arrange for courier.

FOR COOKED OR FROZEN TREATS AND MEALS

Free express delivery for orders above $140.
Cooked and frozen items can only be sent via same-day courier or picked up in store. We take special care to deliver frozen food but due to our climate, it may thaw at an alarmingly fast rate even if we courier it in a foil bags & cooler boxes. Please do a self pick-up if you are not comfortable with this.
Free express deliveries are only on Saturday & Sunday between 3-7pm.

FOR THIRD PARTY PRODUCTS

Third party products are only eligible for free standard delivery with a min. spend of $140.

(Unless specified otherwise.)